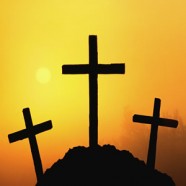 And when I think that God, His Son not sparing,
Sent Him to die, I scarce can take it in;
That on the Cross, my burden gladly bearing,
He bled and died to take away my sin.
No matter how caring and loving we try to be, (and love and care is very obvious), still honestly we cannot say nor should we say that we fully understand another person's personal journey of suffering and struggle.

This does not mean we don't try absolutely not, because we are called to bear one another's burdens and so fulfil the law of Christ. The truth is this; our ultimate hope is in the only one qualified both in His knowledge and understanding of humanity and of course His perfect life. Of course we owe this to the one whom God sent into this broken and messed up world, Jesus. Listen to the powerful, encouraging and strong words from the book of Hebrews:
"For we do not have a high priest who is unable to sympathize without weakness, but we have one who has been tempted in
every way, just as we are—yet was without sin." Hebrews 4:15
Jesus is God's final sacrifice. I will never understand that on the cross my burden gladly bearing, He bled and died to take away my sin. What a powerful truth this Easter time for all of us! Not only was Jesus willing to give up His life and bear our sin but He was the only one able to destroy the power of sin and death.
It may indeed be true that we can scarcely "take it in" but what we do know is this: sin and death has been dealt its final blow and the cost was the blood of God's own precious son.
What appeared to be a defeat on Good Friday as the Lord died on the cruel cross in apparent weakness was just the beginning of a new revolution of love, vulnerability and a new way of seeing the world where the powerless are given dignity and strength.
Love from the Rectory Family X
"He gives power to the weak and strength to the powerless."
Isaiah 40:29