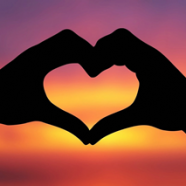 It was Valentine's day not so long ago and like many people my thoughts turned to love. More importantly, what should I get Marlyn? For the first time in my life I settled on a bunch of 12 roses, and as I write this wee note they are still alive and looking well.

Love is a funny old thing though. On the soaps, people seem to fall into and out of love virtually every day and undying love lasts for a very short time. In real life, many people have fallen in love, got married only for things to go wrong. And so often our love seems to depend on how our other half responds! But imagine a love that has no boundaries, is endless, and absolutely unconditional. Imagine someone who loves you so much he will literally do anything to make it possible for you to have a
relationship with him. No matter what you do or how you behave, you will always be loved.
Right at the very beginning of time, when God made the universe and created mankind, he set in motion a plan to make it possible for us who are imperfect, to be made perfect and thus be with him forever. The plan is simple yet complex, easy but extremely hard. It involved God sending his only son to live a perfect life on earth and be put to death, then rising from the dead as a perfect sacrifice for all our failings. What love that is!
And all we have to do is accept him as our Lord and Saviour. The bible tells us that if we confess with our mouth and believe with our hearts that God raised Jesus from the dead we will be saved. ALL who call on the name of the Lord will be saved!
No if's – no but's, no maybe's. Simply a guarantee that we will be in paradise forever with our creator, the one who loves us so much he literally died for us. What a love, what a promise — how can we possibly say no? And when we realise how much we are loved, we can face anything the world may throw at us, because nothing can separate us from the love of God. What
wonderful reassurance that is and I hope and pray you accept his love and then show that love to those around you.
God bless, Adam